Things to see and do - Ischgl
A Trip through History on the Roads of Tyrol :
Nearby tourist sites
A Trip through History on the Roads of Tyrol
Weather
Today
A Trip through History on the Roads of Tyrol
By car, 151 km, 1 day
In winter the little resorts in North Tyrol occupy one of the prettiest ski areas in the country, whether they cater to locals or to the jet set. In summer this mountainous region is peaceful and pleasantly cool. Long fought over by Austria and Italy, Tyrol has inherited a double culture and a diverse Baroque patrimony, offering another way to explore a region that often evokes picturesque clichés.
Customise this route and add it to My travel book
Ischgl
Ischgl
Ischgl
Nature and gardens
From the mountain terrace restaurant, splendid views extend southwards over the sheer Stammerspitze, Muttler and Piz Mundin peaks, to the south-east over the Otztaler Alps, and northwards over the ski slopes across the Swiss border, at the foot of the Bürkelkopf.
Imst
Imst
Innsbrucker Straße 6631 Lermoos
Religious buildings
The Church of St Katherine is an example of the southern German Baroque style. The ceiling and dome were decorated with trompe-l'oeil paintings by the Italian Giuseppe Gru from 1784. The Rococo statues and beautifully-gilded pulpit are of high quality.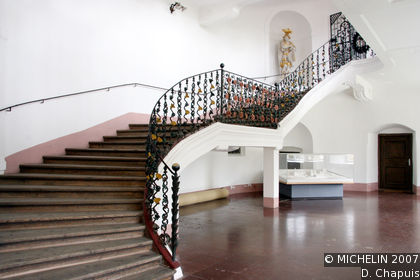 Stiftshof 1 6422 Stams
Religious buildings
The Cistercian Abbey of Stams, founded in 1273, was greatly remodelled in the Baroque style. Visitors entering the church will notice the Rose Grille, a wrought-iron masterpiece from 1716, then the nave balustrade under which lie the Tyrolean princes. Note the high altar whose exceptional altarpiece represents the Tree of Life. The ceremonial hall devoted to St Bernard and museum displaying a selection of precious items are worth seeing.
Dorfplatz 61000 Seefeld in Tirol
Religious buildings
The south door tympanum recalls the story of the miraculous host for which this church was begun in 1384. Inside, the typical late-Gothic network vaulting has salient ribs with adornments (beaks and creepers). In the chancel, the 15C wall paintings recount the legend of St Oswald and St Mary Magdalene. On the right, a painting from 1500 depicts the miracle of the host.