Things to see and do - Austria
Exploring the Salzkammergut :
Nearby tourist sites
Exploring the Salzkammergut
Weather
Today
Exploring the Salzkammergut
By car, 240 km, 2 days
The Salzkammergut has a lot more to offer than its idyllic image of mountains, lakes and springs might suggest. Made rich over centuries by its salt mines, it was a popular resort area for the Habsburgs in the 19C, both for its bucolic charms and for the healing properties of its ''white gold''. Artists also crowded the salons of the many luxury homes of the aristocracy dotting the region, a stone's throw from Salzburg.
Customise this route and add it to My travel book
Spital am Pyhrn
Spital am Pyhrn
Chlumeckyplatz 8990 Bad Aussee
Architecture, castles and historic districts
The old town centre Chlumeckyplatz is a pleasant place for a stroll. This square features a Plague Column and notably the Kammerhof, which was the salt mine regulator's impressive Gothic and Renaissance mansion, with marble doorways and window frames. It houses the local museum (Kammerhofmuseum). The nearby Hoferhaus has retained interesting 16C wall paintings.
Jainzen 1 4820 Bad Ischl
Architecture, castles and historic districts
Visitors strolling in the Imperial villa's magnificent landscaped garden can see the charming little marble palace (Marmorschlössl) that Elisabeth was so fond of. This teahouse had, in a way, become her Trianon. It now houses a Photography Museum (Photomuseum).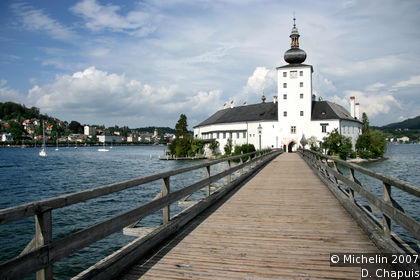 Ort 1 4810 Gmunden
Architecture, castles and historic districts
Built on a small island linked to the mainland by a landing stage, Ort Castle is Gmunden's favourite postcard image. The onion-domed tower doorway leads into the charming courtyard, lined on two sides by arcaded galleries in the style of the 16C. Archduke Johann Salvator, Prince of Tuscany, purchased the estate in 1878 and took the name of Ort, but was later forced to flee Austria after Franz Joseph had deprived him of his nationality because of his political views.
Bad Ischl
Bad Ischl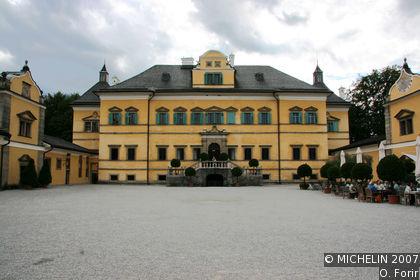 Fuurstenweg 37 5020 Salzburg
Architecture, castles and historic districts
This former Summer residence was built from 1613 to 1616, by archbishop Marcus Sitticus, in an Italian villa style. The trompe-l'oeil virtuosity in the Music Room and Octagon, as well as garden fountains will surprise you more than you think (beware of the spray !). From caves to fountains, you then gain access to the Mechanical Theatre, where 113 figures come to life thanks to water power. There are zoological gardens with vast enclosures nearby.