Things to see and do - Belgium
The Flanders counts' castles :
Nearby tourist sites
The Flanders counts' castles
Weather
Today
The Flanders counts' castles
By car, 113 km, 1 day
Visiting the castles of the Flanders counts is one of the greatest delights that we allot to historical Belgium. On leaving Kortrijk (Courtrai) where the famous battle 'the spurs of gold' took place in 1302, in which the Flemish challenged the knights of Philip the Fair, you can admire Rumbeke castle (only the exterior) spiked with multiple turrets and surrounded by a beautiful park. At 5km east of Bruges the immense castle of Male has since 1954 housed the St Trudon canons.
Customise this route and add it to My travel book
Kortrijk
Kortrijk
Moorseelsesteenweg 4 8800 Rumbeke
Architecture, castles and historic districts
This 15C-16C castle bristling with turrets (one is onion-domed) lies in a beautiful park. Baldwin the Iron Arm sought refuge here after kidnapping Judith, daughter of the King of France Charles the Bald in 862. It was after this incident that he obtained Flanders from the king and became its first count.
N 9 8310 Sint-Kruis
Architecture, castles and historic districts
The canonesses of St Trudo live in this huge castle surrounded by a moat since 1954. It was once the residence of the counts of Flanders. Visitors can see the Knights' Hall and church rebuilt in 1965.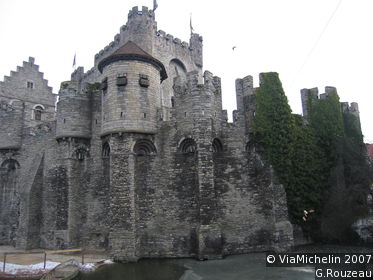 Hoofdburg 9000 Gent
Architecture, castles and historic districts
This castle was built by Philip of Alsace, Count of Flanders, in 1180. It was fully restored in the early 20C. Its architecture drew inspiration from Crusader forts in Syria. Inside the curtain wall, visitors can see the Romanesque gallery and fine rooms of the Count's House. One chamber contains a collection of instruments of torture, recalling that the castle served as a prison for many years. Note the fine view of Ghent and its surroundings from the top of the keep.