Things to see and do - Luxembourg
Luxembourg :
Where to go?
Luxembourg Travel guide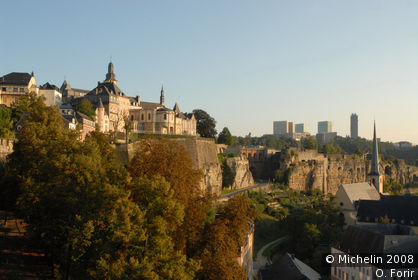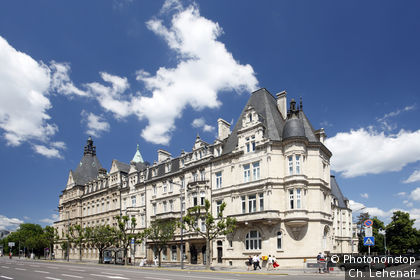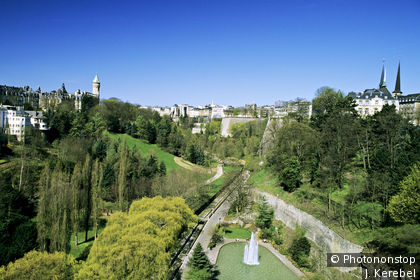 Luxembourg : Michelin's recommendations
No, the Grand Duchy of Luxembourg is not limited to numbered bank accounts! This pretty little country of 500,000 inhabitants, located at the crossroads of Europe, has three official languages (French, German and Luxembourgish) and lots of unexpected charm. Luxembourg, its capital built on a plateau dotted with ravines, looks like a stage set. Behind its calm façade as a financial hub and headquarters for European institutions, it is quite a lively place, largely due to the student population. Be sure to visit Mudam, the museum of modern art, and the superb Philharmonie concert hall designed by Christian de Portzamparc. The town also boasts the best Italian restaurant outside Italy, Mosconi, in addition to its many other Michelin-starred eateries.
Luxembourg's roads take you through picturesque landscapes with rivers meandering past meadows and beech forests, steep ridges and high craggy walls, often topped by a castle in ruins. It's a fun place to go hiking, mountain biking or take a boat ride. Luxembourg's Little Switzerland is the perfect spot for these activities, with its thick forests, babbling brooks and underbrush covered with ferns and blueberries. You can hike down nearly the entire Sûre Valley, which originates in Belgium and juts deeply into the ancient Oesling Massif. The slopes of the more luminous and open Moselle Valley produce white wines, sparkling wines and a few rosés that are well worth trying.
Running through what is known as the Valley of the Millers, the River Ernz Noire is interspersed by waterfalls as it flows between fields of rich pasture, bordered in turn by wooded slopes and spectac...

Situated on a plateau punctuated by ravines traversed by a multitude of bridges, Luxembourg presents un unusual picture. Depending upon the angle from which it is viewed, the city seems to be a milita...

Occupying a remarkable position overlooking the banks of the River Our, this is a picturesque little town of old houses clinging to the hillside, dominated by the impressive and romantic castle of the...

This is a welcoming place whose tiered houses, covered with slates, make a pretty picture. It stands inside an almost circular meander, on a promontory with the ruins of a castle. A tunnel has been du...

Located close to the border, Mondorf is a busy spa town (the resort is to the east of the town). Its two springs, Kind and Marie-Adélaïde were respectively bored in 1846 and 1913 and flow at 24° and a...

This hamlet nestles in the hollow of a valley around the parish church. Its interior is noteworthy for its murals.

Situated on an hillock, Beaufort is a small place well-known for its blackcurrant Cassero liqueur. Near the romantic ruins of a castle.

Situated at the confluence of the Moselle and Sure, this international crossroads is also a centre for tourism and the starting point for boat trips on the Moselle.
Luxembourg - See all cities and regions
Top of page