Things to see and do - Le Mont-Dore
Mont Dore and Lake Pavin :
Nearby tourist sites
Mont Dore and Lake Pavin
Weather
Today
Mont Dore and Lake Pavin
By car, 37 km, 1 day
Mont Dore, one of France's oldest winter sports resorts, lies in a magificent location in a mountain circus dominated by the Massif and Puy de Sancy. The culminating point of central France, the Puy de Sancy is a magical area in winter and summer alike. Sancy can be explored via the valley of Chaudefour, worn into the granite and lava by Quaternary glaciers. Last but not least, the absolutely circular Lake Pavin is a perfect example of a crater lake.
Customise this route and add it to My travel book
Le Mont-Dore
Le Mont-Dore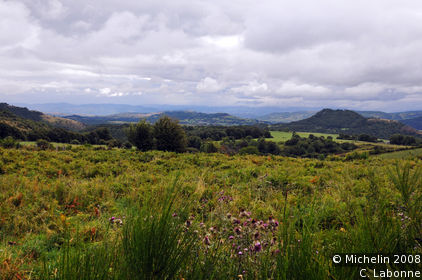 63240 Le Mont-Dore
Nature and gardens
This route skirts the Puy de Sancy (1 885m), providing a view of the range from all angles. Begin with the Col de la Croix-St-Robert and admire the stunning view westwards over the Millevaches plateau, and to the east over Lake Chambon as far as the Livradois mountains. The road runs down through the steep slopes and ravines of the lovely Vallée de Chaudefour to Besse-en-Chandesse. This winter sports resort makes an ideal base for excursions into the massif. Continue in a southwesterly direction to Lake Pavin, one of Auvergne's most beautiful lakes, nestled in a crater and surrounded by forest. Fishing and boating possible. Beyond, Lake Chauvet also lies in a crater caused by volcanic eruptions. The road continues towards La Tour-d'Auvergne and on to Roche Vendeix. A 15min walk along a footpath will take you up to the summit of the rock (1 131m), where the ruins of an old fortress can still be seen. Enjoy the fine panorama over La Bourboule and the Monts Dore.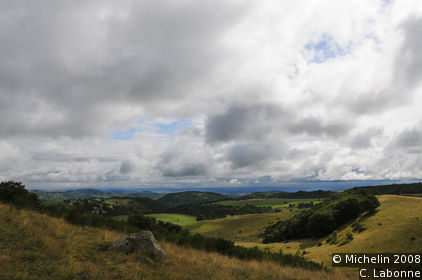 63240 Le Mont-Dore
Nature and gardens
The steep slopes and summits of this valley in the Sancy mountain range are gashed by barren ravines or bristling with rocks which have been laid bare and carved into strange shapes by erosion. The area as a whole is of major scientific interest, with numerous peat bogs and rare flora and fauna. Geology enthusiasts will discover interesting examples of volcanic rock, and mountaineers will be spoilt for choice.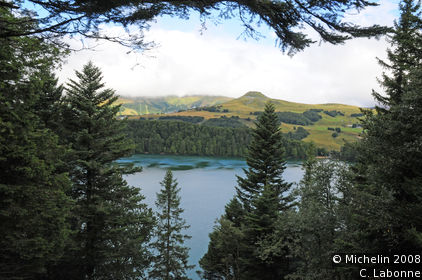 63610 Besse-en-Chandesse
Nature and gardens
Legend has it that the old town of Besse was swallowed up by Lake Pavin as a divine punishment and it was said that throwing a stone into it would unleash terrible storms. However, the view over the glittering waters from the Fraux parking area is far from forbidding. The lake lies in a volcanic crater surrounded by forest, and its waters are populated by char and trout, some of which of amazing size. Ideal for boating and fishing.