Things to see and do - Tréguier
The Pink Granite Coast :
Nearby tourist sites
The Pink Granite Coast
Weather
Today
The Pink Granite Coast
By car, 44 km, 1 day
Worn by the wind and waves, the rocks along the Pink Granite Coast are among the most spectacular in Brittany. The string of coves, bays, islands, peninsulas, reefs and rocky masses create an extraordinary landscape. You can reach the wilder areas if you don't mind climbing some rocks and walking a bit. You can also explore some of the jewels of Brittany's heritage such as Tréguier - a former Episcopal city, and old-fashioned, chic seaside resorts like Perros-Guirec.
Customise this route and add it to My travel book
Tréguier
Tréguier
R. Ernest-Renan 22220 Tréguier
Museums and art
This 16C timber-framed house contains souvenirs and documents relating to Ernest Renan. Visitors can see the room where he was born, a reconstitution of his study, his library at the Collège de France and the two rooms where he liked to work as a child.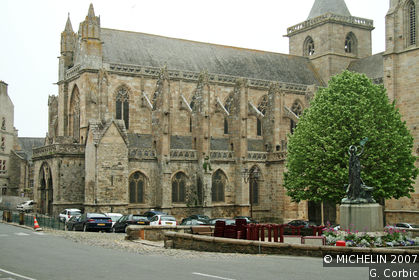 Pl. du Martray 22220 Tréguier
Religious buildings
One of Brittany's finest cathedrals, dating principally from the 14 and 15C. Three towers stand on the transept. On the south side is an attractive «bell portico», surmounted by a flamboyant window. The Romanesque Hastings Tower dates from the 12C. The interior of the church is exceptional. It has 46 Renaissance stalls and 15C sculpted funeral recesses representing knights in armour. The treasury and cloister are also worth a look.
Perros-Guirec
Perros-Guirec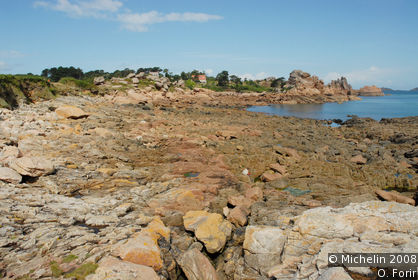 Sentier des Douaniers 22700 Ploumanach
Nature and gardens
Stretching from Porz Rolland to Porz ar Mor, this rocky coastline is one of Brittany's finest natural sites, with rocks of all shapes and sizes along the shore facing the Sept Îles archipelago. The most interesting area is the Pointe de Squéouel, a headland of gigantic rocks. Visitors to the area will also discover strange formations such as the "Turtle", "Rabbit" etc.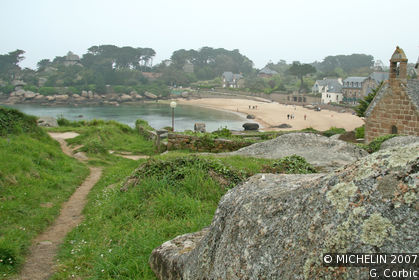 22 Ploumanach
Nature and gardens
On the beach is an oratory to St Guirec who landed here in the 6C. A granite statue of the saint has replaced the primitive wooden effigy which suffered from a rather disrespectful custom: young ladies wishing to marry used to stick a hairpin in the saint's nose. The beach is sheltered by rosy-hued rocks of exceptional beauty.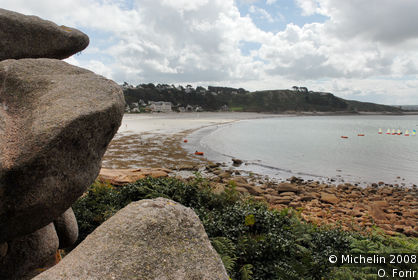 22560 Trébeurden
Nature and gardens
This pile of rocks commands a view which stretches along the coast, taking in the islands of Milliau, Molène, Grande and Losquet.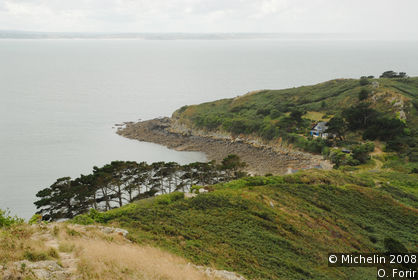 22560 Trébeurden
Nature and gardens
From the viewing table, there is a fine view of the coast from Ile de Batz and Roscoff right over to Ile Grande and Triagoz Lighthouse out at sea.