Things to see and do - Saumur
Saumur and Fontevraud Abbey :
Nearby tourist sites
Saumur and Fontevraud Abbey
Weather
Today
Saumur and Fontevraud Abbey
By car, 20 km, 1 day
Saumur has preserved intact its splendid chateau, built above the Loire in the 14C. The little winding streets of the town centre, which have kept their mediaeval layout, lead to Saumur's oldest church, Notre-Dame-de-Nantilly. This Romanesque church was built in the first half of the 12C, and a huge Gothic side aisle was added during the 15C on the orders of Louis XI. Between Saumur and Chinon rises the abbey of Fontevraud, the last resting place of the Plantagenets and one of France's largest monastic sites.
Customise this route and add it to My travel book
Saumur
Saumur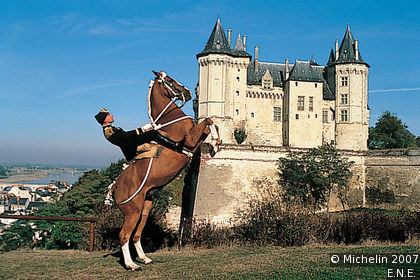 Espl. du Château 49400 Saumur
Architecture, castles and historic districts
This chateau has a proud air about it with its towers and sloping roofs, flouting the Loire from its pedestal. King René rebuilt this chateau as a «love mansion» in the 14C, adorning it with a well thought out decorative design befitting of the Gothic style. At the end of the 16C the chateau was again fortified, and today accommodates the Horse Museum and the Museum of Decorative arts.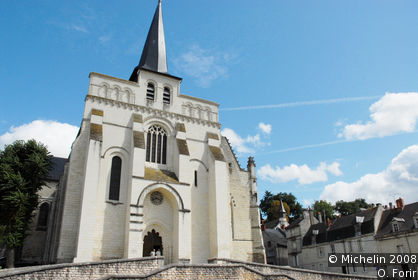 R. du Pressoir 49400 Saumur
Religious buildings
Inside this beautiful Roman building you will discover some very beautiful tapestries (15C to 17C). The organ case supported by atlases dates from 1690.
49 Fontevraud-l'Abbaye
Religious buildings
Inside the church, don't miss the soft stone polychrome recumbent statues of the Plantagents, dating from the early 13C, which represent Henry II, Count of Anjou and King of England, Eleanor of Aquitaine, his wife, and their son, Richard the Lionheart. The superb cloister of the nuns' convent is covered in Renaissance vaults, with the exception of the southern gallery which is more Gothic in inspiration. The 16C murals, which adorn the chapter house, depict some of the Abbesses of Fontevraud. In the handsome refectory complete with Gothic vault, a superb digital fresco relating the abbey's history is projected onto Romanesque walls. The visit ends in the loveliest Romanesque kitchen still in existence, famed for its impressive carved stone roof.