Things to see and do - Saumur
Saumur and Fontevraud Abbey :
Nearby tourist sites
Saumur and Fontevraud Abbey
Weather
Today
Saumur and Fontevraud Abbey
By car, 20 km, 1 day
Saumur has preserved intact its splendid chateau, built above the Loire in the 14C. The little winding streets of the town centre, which have kept their mediaeval layout, lead to Saumur's oldest church, Notre-Dame-de-Nantilly. This Romanesque church was built in the first half of the 12C, and a huge Gothic side aisle was added during the 15C on the orders of Louis XI. Between Saumur and Chinon rises the abbey of Fontevraud, the last resting place of the Plantagenets and one of France's largest monastic sites.
Customise this route and add it to My travel book
Saumur
Saumur
Espl. du Château 49400 Saumur
Architecture, castles and historic districts
With its towers and sloping roofs, this château has a proud air to it, dominating the Loire from its pedestal. King René rebuilt this château as a "love mansion" in the 14C, adorning it with a well thought out decorative design in the Gothic style. At the end of the 16C, the château was again fortified, and today houses the Horse Museum and the Museum of Decorative Arts.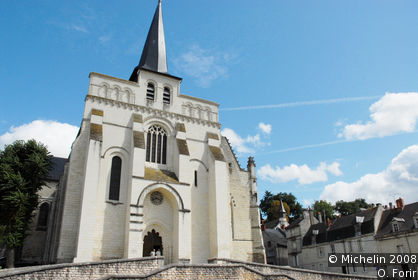 R. du Pressoir 49400 Saumur
Religious buildings
Inside this beautiful Romanesque building are some very beautiful tapestries (15C-18C). The organ case supported by atlas figures dates from 1690.
49 Fontevraud-l'Abbaye
Religious buildings
Last resting place of the Plantagenets, the abbey of Fontevraud remains (despite numerous mutilations) one of France's most important monastic sites. Don't miss the vast 12C church and the Plantagenet tombs in its chancel, the 16C wall paintings in the chapter house of the Ste-Marie cloister, the 12C St Benoît's Chapel and the amazing Romanesque kitchen. Since 1975, the abbey has been a residential centre for creatives, bringing life to the site (concerts, exhibitions...).