Things to see and do - French Alps
The Gorges du Verdon :
Nearby tourist sites
The Gorges du Verdon
Weather
Today
The Gorges du Verdon
By car, 61 km, 1 day
America has its Grand Canyon, and Europe its Gorges du Verdon. While the Verdon is on an Old World scale that can't compete with the gigantic dimensions of the Colorado River, its sheer drops range from 250 to 700 metres, providing spectacularly beautiful vistas. As incredible as it may seem, these gorges were inaccessible and unexplored for a long time - until the 1900s.
Customise this route and add it to My travel book
Castellane
Castellane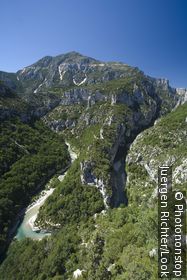 04_ Saint-Maimes
Nature and gardens
In the Occitan language, mescal signifies "mixture", and these balconies tower 250m above the spot where the waters of the Verdon River mingle with those of its tributary, the Artuby. In this wild, grandiose setting, the river's crystal waters rush past a narrow knife-edged ridge. Note the depth of the north-south facing gorges upstream, which are between 400 and 500m in places. The view is best from the upper belvedere.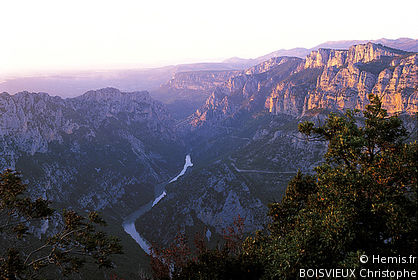 83630 Aiguines
Nature and gardens
This magnificent beech-lined cirque stretches out around 700m above the Verdon. The best views of it are to be had from the stretch of road running between the Balcons de la Mescla and Moustiers-Ste-Marie, since here it reaches a peak height of 1 202m. You can also enjoy unobstructed views of the Vaumale springs. As you exit the cirque, the road deviates from the gorges, affording views over the Verdon, downriver, and over the Lac de Ste-Croix.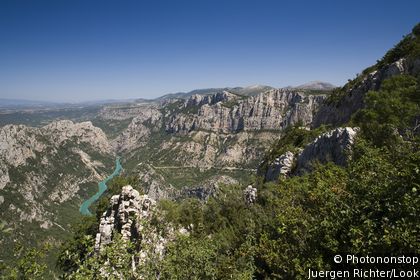 83630 Aiguines
Nature and gardens
This pass marks the end of the gorge and gives you a final chance to admire the Grand Canyon stretching uphill as far as the eye can see. The view below takes in a stunning horizon of blue-tinged mountain tops, including the ridge of the Mt Sainte Victoire. In the foreground is the Plateau de Valensole, which runs down to the Lac de Sainte Croix.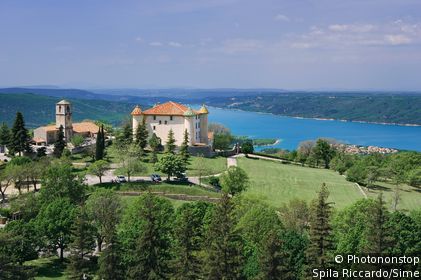 83630 Les Salles-sur-Verdon
Nature and gardens
This lake created at the edge of the Gorges du Verdon in 1975 covers 2 200ha. Its 10km of intensely blue-green waters are ideal for water sports. Lined with typical Provence villages and beaches, it also affords lovely views of the surrounding landscape, including the Plateau de Valensole. The best views, however, are from the Pont de Galetas, a bridge spanning the Verdon. From one side you can see the first section of the canyon and on the other there is a broad panorama over the lake.