Things to see and do - Güstrow
Mecklenburg's Lakes :
Nearby tourist sites
Mecklenburg's Lakes
Weather
Today
Mecklenburg's Lakes
By car, 169 km, 1 day
This ''land of 1,000 lakes'', about an hour north of Berlin, has preserved its wild beauty shaped by glaciers which hollowed out cavities and basins here. Natural and artificial canals connect its expanses of water. A beautiful setting, it vies with the sparkling lake plateaus of Pomerania and Mazuria and contains rare examples of German Renaissance architecture.
Customise this route and add it to My travel book
Güstrow
Güstrow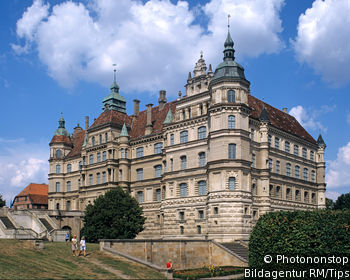 Franz-Parr-Platz 18273 Güstrow
Architecture, castles and historic districts
The castle, begun in 1558, features elements of the Italian, French and German styles of the period. Several rooms have been laid out as a museum, and contain part of the national museum of Schwerin. Note the stucco decoration in the reception hall, and the paintings by Lucas Cranach the Elder.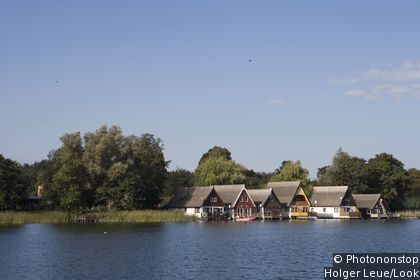 17192 Mecklenburgische Seenplatte
Nature and gardens
Several large lakes are visible in this unique landscape: the Schweriner See - on whose shore is Schwerin, the capital of the State -, the Krakower See and the Plauer See, the third-largest lake in Mecklenburg-Vorpommern. Farther to the north are the Malchiner and Kummerower See, in Mecklenburg's «Switzerland.» The Müritz is Germany's second-largest lake (115km 2). On its northern shore is the largest tourist centre in the region (Waren).
Neustrelitz
Neustrelitz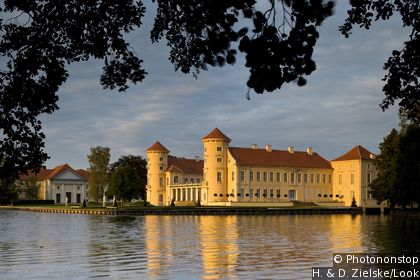 Park Rheinsberg 16831 Rheinsberg
Architecture, castles and historic districts
The castle of Grienericksee is linked to Frederick the Great, who lived there for four years. In 1834, the castle was bought by Friedrich-Wilhelm I for his son, who had it transformed into the Baroque style. The central building is the work of Knobelsdorff. Inside, see the Hall of Mirrors and the Cabinet of Bacchus, both decorated with frescoes by Pesne. The castle houses the Kurt Tucholsky memorial. Also be sure to tour the grounds, landscaped according to plans by Knobelsdorff and JS Sello and Frederick's own tastes.