Things to see and do - Pottenstein
The Franconian Switzerland: Bayreuth and its Envir :
Nearby tourist sites
The Franconian Switzerland: Bayreuth and its Envir
Weather
Today
The Franconian Switzerland: Bayreuth and its Envir
By car, 112 km, 1 day
A rolling plateau cut by deep valleys southwest of Bayreuth forms the northern tip of the Franconian Jura. The soil, composed of porous limestone, has undergone intense erosion, creating numerous caves and dolomite formations. 19C Romantics, inspired by the landscape, gave it the evocative name of ''Franconian Switzerland''.
Customise this route and add it to My travel book
Pottenstein
Pottenstein
91278 Pottenstein
Nature and gardens
Off the beaten track, the undulating plateau of Swiss Franconia (southwest of Bayreuth), is gashed by deep valleys. It forms the northern extremity of the Jura and its porous limestone shelf has resulted in many caves. The Devil's caves (Teufelshöle) are among the largest, adorned with impressive stalactites and stalagmites, in particular the "Cathedral of Barbarossa". The cave's exit, through a labyrinth of massive, chaotically heaped rocks, is picturesque.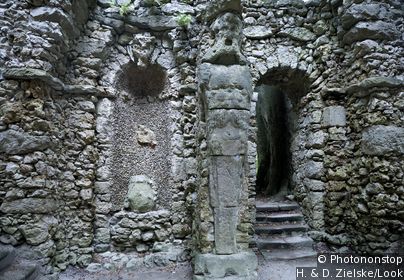 Sanspareil 96197 Wonsees
Nature and gardens
After the completion of the Hermitage in Bayreuth, Margravine Wilhelmina and Margrave Friedrich acquired an old hunting estate which they transformed into a rock garden and called it «Sanspareil» (Without equal). At the edge of the grove stood the Oriental building, fitted out in the Bayreuth Rococo style making it an example of Franconian court art. Further architectonic features of this 17ha/42 acre park include caves, grottoes and ruined theatres.
Bayreuth
Bayreuth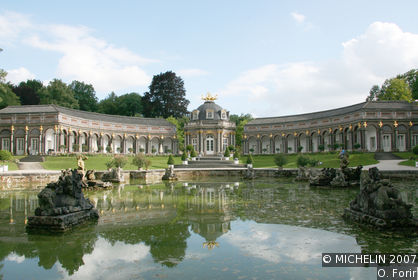 Eremitagestraße 95448 Bayreuth
Architecture, castles and historic districts
This used to be the Margraves' Bayreuth residence. The old Castle was built in 1715 and converted by Wilhelmina in 1736. She wrote her memoirs in the Chinese Mirror Cabinet. In the grounds, note the grotto, and the artificial ruins of a theatre built in 1743. The New Castle , designed on a semicircular plan, was rebuilt after 1945. In the middle, the Temple of the Sun is decorated with scenes from mythology.