Things to see and do - Canterbury
Leaving for Great Britain
Kent, a Region full of History :
Nearby tourist sites
Kent, a Region full of History
Weather
Today
Kent, a Region full of History
By car, 53 km, 1 day
England's south-eastern tip, exposed to the North Sea winds, fought long and hard to become the ''garden of England''. From the time of the Roman Empire to the Cinque Ports, the British equivalent of the Hanseatic League, high walls were built to push back invaders, in particular the warlike kingdom of France. The white cliffs of Dover and the North Downs, a ridge of chalk hills, fired the imagination of writers such as Jane Austen and Charles Dickens.
Customise this route and add it to My travel book
Canterbury
Canterbury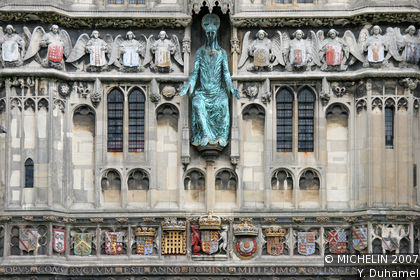 The Precincts Canterbury CT12EH
Religious buildings
Seat of the primate archbishop of England, parts of this cathedral date back to the 12C (choir and crypt), and rebuilt by a Frenchman, Guillaume de Sens, after the fire of 1174. Although it was designed by De Sens, the work was actually carried out by another William, "The Englishman", who complete the choir and designed the plans for the crypt and Trinity Chapel. The Cathedral was completed in the 15C.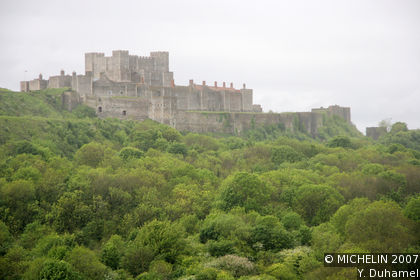 Castle Hill Road Dover CT1618U
Architecture, castles and historic districts
The Romans built a lighthouse (Pharos) on this site, and a church (St Mary de Castro) was later founded by the Saxons. William the Conqueror reinforced the fortifications, and the superb keep was added around 1180, with a surrounding wall. The Constable's Tower dates from the 13C, and the underground galleries were extended during the Napoleonic era and again during the Second World War. Sound effects and other paraphernalia - at times macabre - lend the site an almost Orwellian atmosphere.
Deal CT14
Architecture, castles and historic districts
To resemble the rose of the Tudors, the solid castle built under the reign of Henry VIII was designed with "petals", concentric bastions where heavy arms were used to fight off attacks from the sea.
Sandwich
Sandwich
Sandwich CT139JW
Archaeological and historical sites
Richborough Roman Fort was erected during the Roman invasion and is where Emperor Claudius' invading forces probably landed in AD 43. Roman Rutupiae remained one of the province's most important ports, and was later the headquarters of the troops responsible for repelling the Germanic sea-borne raiders. The massive walls still impress and can be seen from the banks of the River Stour, but no longer from the sea, now 3km distant.