Things to see and do - Mýkonos
Isle of Dílos: Mount Kynthos :
Nearby tourist sites
Isle of Dílos: Mount Kynthos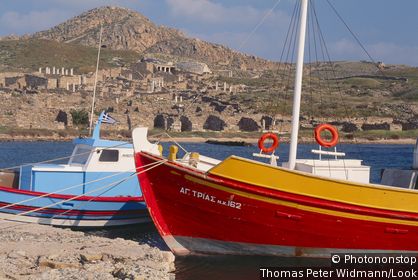 Weather
Today
Isle of Dílos: Mount Kynthos

: Michelin's recommendations
The Terrace of the Foreign Gods was built in the 2C BC to hold the shrines of the non-Greek divinities frequented by the many immigrants who lived on Delos. On either side of the path, once bordered by porticoes, are traces of semicircular shrines (conversation rooms with seats) and meeting rooms, the Shrine of the Syrian gods. One of the porticoes enclosed a small theatre where orgiastic mysteries were celebrated in honour of Atargatis, the Syrian Aphrodite. The Shrine of the Egyptian gods contains the remains of a temple to Serapis and a temple to Isis of which the façade has been restored; in front of the latter temple stood an altar for offerings, and its naós (sacred part of the temple) had a statue of the goddess. The foundations and two columns of the façade of the Iréon mark the site of this small Doric temple built of marble and dedicated to Hera (6C BC); numerous cult objects were found in the naós. Not to be missed: the ascent of Mount Kynthos; the sacred cave is an opening in the rock covered in the Hellenistic era with enormous slabs of granite to form a shrine to Herakles. The summit (113m) has traces of a shrine to Zeus and Athena (3C BC) and offers a magnificent panorama over Delos and the Cyclades.