Killarney
Things to see and do
Organise your stay
The Ring of Kerry :
Nearby tourist sites
The Ring of Kerry
Weather
Today
The Ring of Kerry
By car, 203 km, 1 day
This scenic loop runs along the steep coast of Iveragh Peninsula to Killarney National Park with its lakes, waterfalls and glacial gaps. A hilly region with the country's highest peaks, it is also the birthplace of Daniel O'Connell, the "Liberator of Ireland". The Ring of Kerry is very popular in summer - and full of tour buses. To avoid them, try driving around it clockwise.
Customise this route and add it to My travel book
Killarney
Killarney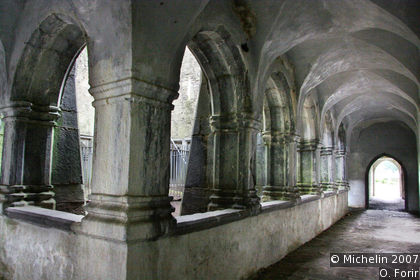 N 71 Killarney
Religious buildings
The friary, also known as Muckross Abbey, was founded by the Franciscans in 1448. It took fifty-nine years to complete this building. The church is remarkable for its nave and choir (15C), which is illuminated by a widely splayed window of four lights crowned by tracery, its massive central tower and the south transept were built around 1500. To the north, the cloister with 22 arches and the domestic buildings were built in four different phases.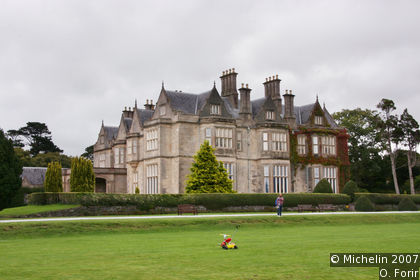 N 71 Killarney
Architecture, castles and historic districts
The Elizabethan style house was built from 1840 to 1843. It is mainly furnished in early-20C style. The drawing room, library and dining room are lavishly decorated. The basement is dedicated to regional craftwork. The splendid gardens run down to the edge of the lake. Muckross Peninsula, which separates Lough Leane from Muckross (Middle) Lake has some of the most beautiful yew forests in Europe (nature trails).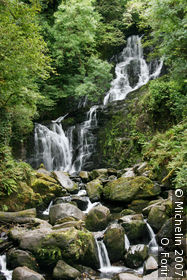 N 71 Muckross
Nature and gardens
This 18 m waterfall is one of the highest in Ireland. The adjacent viewpoint (173 steps) provides a fine view of the lakes.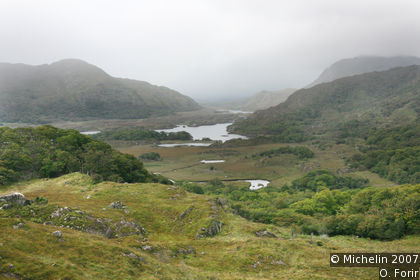 N 71 Muckross
Nature and gardens
The panoramic view over Macgillycuddy's Reeks and the Upper Lake delighted Queen Victoria and her retinue so much, that the site was named after her following her visit in 1861.
N 70 Caherdaniel
Nature and gardens
Derrynane House once belonged to Daniel O'Connell, the Great Liberator. The grounds (120 ha) bordering Derrynane Bay include a beach, an bird sanctuary and Abbey Island, which is only accessible at low tide. From the castle, pathways offer walks through the flower gardens and woodlands. The south and east wings of the house have not changed since they were built in 1825. The centrepiece in the living room (1st floor) is a highly elaborate table given to Daniel O'Connell.
Knight's Town
Knight's Town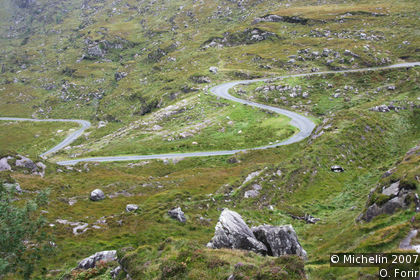 Killarney
Nature and gardens
The U-shaped breach (457m deep) is traversed by a narrow unsurfaced road which winds up a series of hairpin bends, alongside several mountain tarns, crosses a tumbling stream and passes by the ruins of a Royal Irish Constabulary strongpoint. Most traffic turns back on reaching the Head of the Gap (242m), from where the track descends into Gearhameen Valley. Savour the view of the Upper Lake, bordered by native oak woods and backed by Mangerton Mountain (838m).