Things to see and do - Ireland
Exploring the Antrim Coast :
Nearby tourist sites
Exploring the Antrim Coast
Weather
Today
Exploring the Antrim Coast
By car, 112 km, 1 day
Originally conceived in the 19C by architectural engineer Charles Lanyon to help supply potatoes to people in the Glens, the A2 has acquired a reputation as one of the most beautiful roads in Northern Ireland. The Antrim Coast, only twenty kilometres from Scotland, proudly projects the basalt columns of the Giant's Causeway, one of the jewels on the UNESCO World Heritage list. The coast, dotted with pleasant seaside resorts, is a fisherman's delight.
Customise this route and add it to My travel book
Portrush
Portrush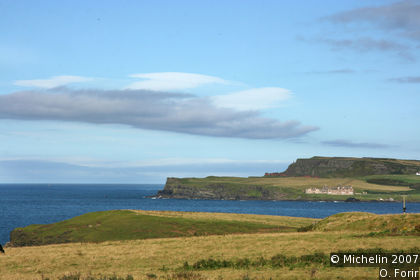 44a Causeway Road Causeway Head BT578SU
Nature and gardens
The Giant's Causeway is one of the most famous natural wonders in Ireland. The 40 000 basalt columns have inspired legend, constant wonder and curiosity, and given rise to ardent scientific debate. Nowadays, this UNESCO world heritage site attracts hundreds of thousands of visitors each year. It is the focal point but by no means the sole attraction of Causeway Coast, which stretches eastwards from Portrush seaside resort.
Harbour
N/D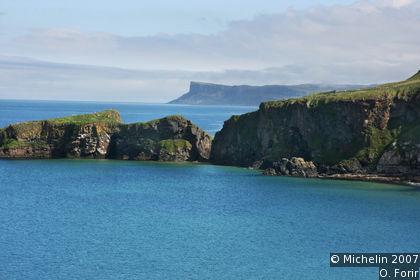 B 15 Ballintoy BT546
Architecture, castles and historic districts
A 20m-long rope bridge is set up every year for those who want to go fishing on the island, in quest of the salmon migrating to spawn in the River Bush or River Bann. The island forces the fish north (the name means "rock in the road"), directly past the rope bridge erected here each year. 25m above the water, it bounces and wobbles underfoot. Superb coastal views.
Murlough Bay
Ballycastle
Main Street Cushendun BT440P
Architecture, castles and historic districts
Cushendun's most characteristic residence was built by Clough Williams-Ellis (1883-1977), the architect of Portmeirion in North Wales who worked here for Ronald McNeill, Lord Cushendun. Glenmona House (1923), a Neo-Georgian style residence has a front portico, supported by Tuscan columns; set in a pine wood, it faces the sea to the north of the village.
Coast Road. Ballygally Larne BT402QG
Nature and gardens
The 190 ha park was once a private estate. It has a walled garden with 12 sundials dotted around amid flowers and shrubs which indicate Greenwich Mean Time, British Summer Time and local time. A terrace overlooks a maze in the form of the outline of Northern Ireland. The Lime Kiln Promenade includes a visit to the old Ice House and watch post. A trail takes visitors along the coast.