Things to see and do - Ireland
The Dingle Peninsula :
Nearby tourist sites
The Dingle Peninsula
Weather
Today
The Dingle Peninsula
By car, 88 km, 1 day
This thin strip of land thrusting out into the sea bears the (disputed) name of its main town, and its new Irish name, An Daingean, is not to everyone's liking - even in this bastion of Gaelic-speak. The wild and craggy coast here was the setting for David Lean's film "Ryan's Daughter". Mount Brandon, named after a monk said to have crossed the Atlantic in the 5th century, affords a breathtaking view of Stradbally Beach, the longest in the country.
Customise this route and add it to My travel book
Tralee
Tralee
Kilcummin
Nature and gardens
This beach, the longest in Ireland, stretches for 19km around the wonderful Brandon Bay. Several paths lead down to the beach from the road to Fahamore on the headland of Castlegregory. Offshore at the north end of the Strand lie the Magharee Islands, also known as The Seven Hogs. At low tide it is possible to walk from Illauntannig, the largest island on which there is an early Christian monastery, to Reennafardarrig Island.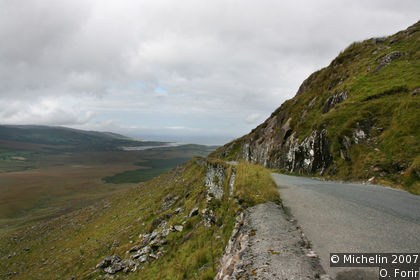 Dingle
Nature and gardens
This is the highest pass (456m - car park) open to cars in Ireland. The road hugs the flank of the mountain to reach the pass, commanding superb views of Dingle Harbour to the south and Brandon Mountain to the north, as well as overlooking Brandon Bay and Tralee Bay, which are separated by the Castlegregory Peninsula to the northeast.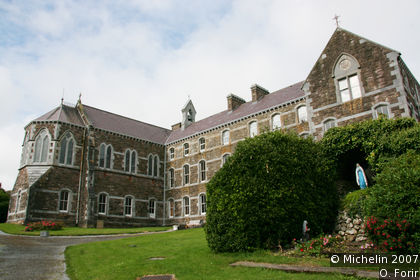 Green Street Dingle
Religious buildings
The chapel of Presentation Convent contains beautiful stained-glass windows representing scenes from the Bible. They were created in 1924 by Harry Clarke.
R 559 Dunquin
Museums and art
A stark modern building houses a collection celebrating the rich Gaelic literary tradition of the Blasket Islands, based on local folktales and a source of fascination for scholars. The centre also illustrates the traditional activities of the archipelago such as fishing in small boats made of skin stretched over a timber frame, digging in the fields with spades and donkey transport.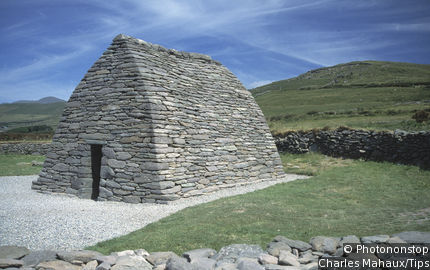 R 559 Ballyferriter
Religious buildings
Most likely built in the 9C in dry stone, this chapel, in the shape of an inverted boat, is a well-preserved example of a corbelled building. A window opens to the east and a door surmounted by a double lintel opens to the west. Above the door, a pair of projecting stones with drill holes suggest that it was once closed by a wooden door.