Things to see and do - Ireland
The Wicklow Mountains :
Nearby tourist sites
The Wicklow Mountains
Weather
Today
The Wicklow Mountains
By car, 104 km, 1 day
These granite mountains south of Dublin, the cradle of Christianity in Ireland, are imbued with the mystic aura of St. Kevin who lived here in the sixth century. As for the name Wicklow, it seems straight out of a Celtic legend with its fairytale landscape of lakes and waterfalls. The region's majestic Palladian villas add a final note of spirituality to the place, a popular weekend destination for Dubliners.
Customise this route and add it to My travel book
Wicklow
Wicklow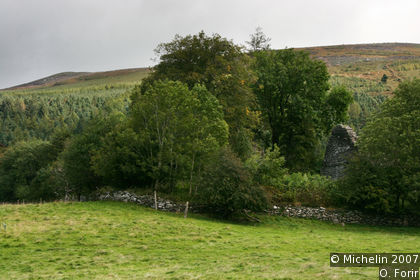 R 756 Glendalough
Nature and gardens
St Kevin came to this long isolated valley, in the heart of the Wicklow Mountains, to find solitude. Later, he founded a monastery that became a highly frequented pilgrimage centre and still continues to attract hoards of tourists. The «Glen of the Two Lakes» is, without doubt, one of Ireland's most evocative monastic sites. This is due both to the beauty of its setting and the number of buildings - intact or in ruins - testifying to the beginnings of Christianity in Ireland.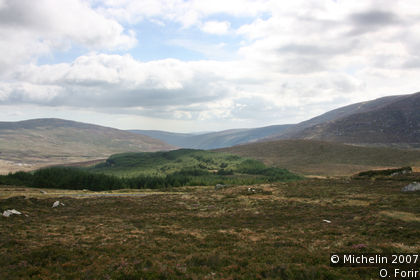 Glendalough
Nature and gardens
The road west from Glendalough to Hollywood (24km) follows the course of the medieval pilgrims' path, St Kevin's Road, through the Vale of Glendasan. By car, the road loops northeast and rejoins the old route through Wicklow Gap between Tonelagee (816m north) and Table Mountain (700m west). Hikers may choose to follow the old direct route (3km) closer to Lough Nahanagan.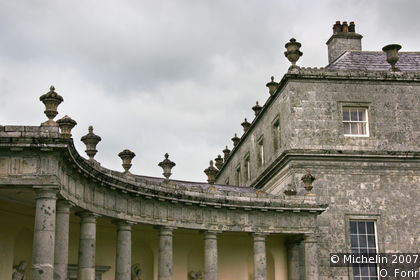 N 81 Blessington
Architecture, castles and historic districts
This magnificent Palladian mansion stands on gently sloping ground leading down to the waters of Poulaphouca Reservoir, which reflect the Wicklow Mountains lying beyon it. The lawned terraces behind the house are original. The short drive passes the old stable before the main building's full facade, built of Wicklow granite and linked to two wings by crescent shaped colonnades, comes into view.
Sraghmore
Nature and gardens
Take the time stop at this crossroads on the Military Road, built by the British to open up the region after the 1798 Rebellion, and admire the splendid view of the surrounding blanket bog on Wicklow Mountains.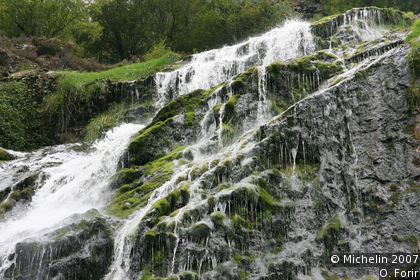 Enniskerry
Nature and gardens
The highest waterfall in Ireland is formed by the Dargle River which plunges (120m) in a spray of thick white spume down a grey rock face set in a horseshoe of hills. There are pleasant walks and nature trails along the river banks. Climbing the rock face is dangerous.