Things to see and do - Cortina d'Ampezzo
Dolomites :
Nearby tourist sites
Dolomites
Weather
Today
Dolomites
By car, 77 km, 1 day
The Dolomites, a heavily eroded limestone massif, lie in the Trentino-Alto-Adige region and extend into Venezia. This one-day itinerary takes you through the heart of the region, starting with the capital, Cortina d'Ampezzo, one of Italy's most elegant winter sports resorts. You then enjoy a series of breath-taking views, including from the Sella and Pordoi Passes, the latter being the highest on the Dolomite route (2239m).
Customise this route and add it to My travel book
Cortina d'Ampezzo
Cortina d'Ampezzo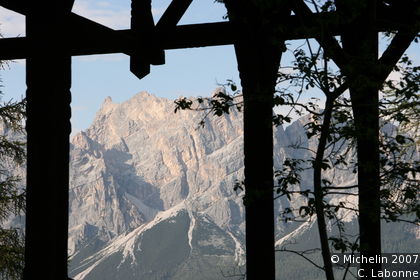 V. Pralongo 32043 Cortina d'Ampezzo
Nature and gardens
With the sun sets this place is illuminated the place for a short moment by the mountain. This is the time you should be at the belvedere, to have a good view of the Cortina valley.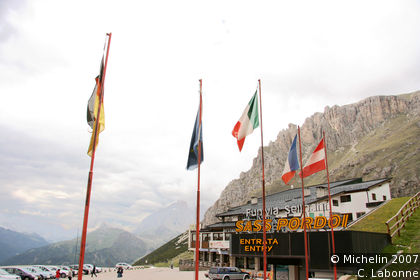 32020 Arabba
Nature and gardens
At an altitude of 2 239m, Pordoi Pass, the highest of the Dolomites, occupies an impressive site between huge blocks of rock with sheer sides and shorn-off tops.
39048 Kreuzboden
Nature and gardens
At the heart of the Dolomites, this pass links the Fassa valley and the Gardena valley. The sweeping view embraces the Sella massif, Sasso Lungo and Marmolada.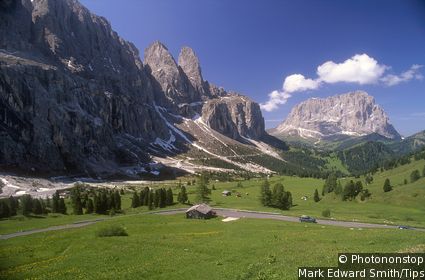 39048 Selva di Val Gardena
Nature and gardens
The beauty of this valley in the Dolomites will quickly make you forget the crowds of tourists. It is one of the rare places where the inhabitants still speak the rhaeto-roman language which developed during the Roman occupation. Its villages are specialised in wood crafts as you will see in Selva, Santa Cristina and Ortisei. There is no lack of excursions either, particularly up to Alpe di Sius. This60km² high-altitude plateau enjoys a delightful setting between Sasso Lungo and Sciliar and makes a good base camp for walks in the region.