Things to see and do - Adrano
A Sicilian Hike up Etna :
Nearby tourist sites
A Sicilian Hike up Etna
Weather
Today
A Sicilian Hike up Etna
By car, 155 km, 1 day
Who has never dreamt of climbing Etna, the fascinating volcano that overlooks the Ionian Sea to the East from atop its 3,345 metres? The famous philosopher Empedocles is said to have been one of the first to attempt it. The age-old Sicilian giant, a vivid character in mythology and Pindar's ''pillar of the sky'', gave the towns huddling against it their basalt colour. The experience, like the place and the landscape, is without a doubt unforgettable.
Customise this route and add it to My travel book
Catania
Catania
95031 Adrano
Industrial tourism and theme park
In the framework of a research project, this plant was operational between 1981 and 1987 and is now used for experimenting with electricity production via solar panels as part of project to provide electricity to mountain refuges and other isolated buildings.
Corso Umberto 95036 Randazzo
Architecture, castles and historic districts
Today only part of the palace's façade remains: attractive bicoloured banding and twin windows embellish it. Famous figures in history stayed here before the earthquake destroyed it in 1693: Joan of England, William II the Norman, Constance of Aragon and Charles V.
95010 Sant'Alfio
Nature and gardens
On the road to Linguaglossa, this chestnut tree of between 2,000 to 4,000 years of age is the main attraction of the village. Its trunk is made up of three shoots and has a circumference of 60m! According to legend, Queen Jean sheltered here one stormy night with an escort of 100 knights.
Nicolosi
Nicolosi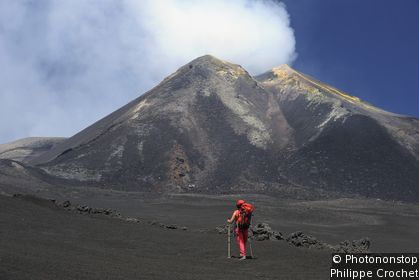 95030 Nicolosi
Nature and gardens
The ascent can be from the south from Catania, via Nicolosi, or by the northeast face from Taormina via Linguaglossa. The former will take you up to an altitude of 3 000m near the grandiose Valle del Bove, hemmed in by walls of lava (1 000m high) and pierced with pot holes and crevasses belching smoke. The road to the northeast face ends at Piano Provenzana (1 800m). There is a magnificent view from the area around the new observatory. The climb ends amid an extraordinary landscape of lava and smoking pot holes.