Things to see and do - Vinci
Da Vinci in Florence, the Origins of Genius :
Nearby tourist sites
Da Vinci in Florence, the Origins of Genius
Weather
Today
Da Vinci in Florence, the Origins of Genius
By car, 68 km, 1 day
Who was Leonard da Vinci really? Behind the famous creator of the Mona Lisa lies a character of many talents who was an architect, botanist and sometime anatomist. Following in the footsteps of the early protagonists of the Italian Renaissance, this itinerary provides a new perspective on the Quattrocento, from ''homo universalis'' to the geniuses of Florence.
Customise this route and add it to My travel book
Vinci
Vinci
Anchiano 50059 Vinci
Museums and art
In a site full of sadness stands the presumed birthplace of the artist. Some 15C elements have been preserved (the chimney, the stone sink and the family shield in the main room). But it is the countryside of olive groves with silvery leaves, the opalescent light, the terraced fields on the hills which all make a picture with a harmony of which Leonardo would be proud.
v. della Torre 11-oct 50059 Vinci
Museums and art
In the 11C castle of the Guidi Counts is a museum devoted to models (more than a hundred) of machines made following the drawing of this local genius.
Artimino
Artimino
Passeggiata ai Colli
N/D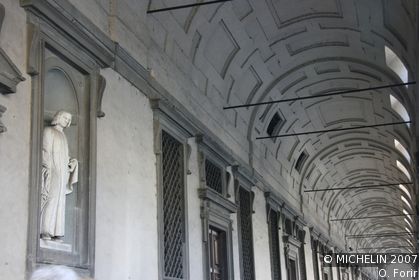 piazzale degli Uffizi 6 50122 Firenze
Museums and art
This is one of the world's greatest museums. Its collections trace the evolution of Italian painting from the earliest days to the 17C. The museum is located in the old Uffizi palace, the seat of Medici Florence's bureaucrats. Built by Vasari in 1560 in late-Renaissance style, a long square is delineated by its two parallel galleries joining in a horseshoe curve. Drawings and prints are on the first floor, paintings and sculpture on the second floor. Work began in 2006 to extend the museum and develop the Nuovi Uffizi. The museum remains open, but some rooms are occasionally closed to the public.