Things to see and do - Vinci
Da Vinci in Florence, the Origins of Genius :
Nearby tourist sites
Da Vinci in Florence, the Origins of Genius
Weather
Today
Da Vinci in Florence, the Origins of Genius
By car, 68 km, 1 day
Who was Leonard da Vinci really? Behind the famous creator of the Mona Lisa lies a character of many talents who was an architect, botanist and sometime anatomist. Following in the footsteps of the early protagonists of the Italian Renaissance, this itinerary provides a new perspective on the Quattrocento, from ''homo universalis'' to the geniuses of Florence.
Customise this route and add it to My travel book
Vinci
Vinci
Anchiano 50059 Vinci
Museums and art
In a site full of sadness stands the presumed birthplace of the artist. Some 15C elements have been preserved (the chimney, the stone sink and the family shield in the main room). But it is the countryside of olive groves with silvery leaves, the opalescent light, the terraced fields on the hills which all make a picture with a harmony of which Leonardo would be proud.
v. della Torre 11-oct 50059 Vinci
Museums and art
In the 11C castle of the Guidi Counts is a museum devoted to models (more than a hundred) of machines made following the drawing of this local genius...
Artimino
Artimino
Passeggiata ai Colli
N/D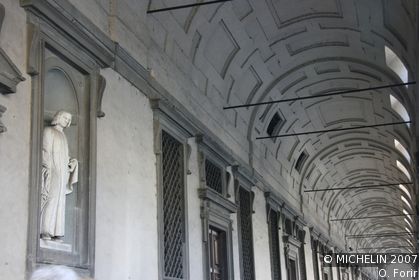 piazzale degli Uffizi 6 50122 Firenze
Museums and art
The paintings are arranged in chronological order, following the evolution of pictoral (mainly Tuscan) art up to the late 17C. Gradually leaving Byzantine influences behind, three painters gave renewed vigour to Italian painting, Cimabue, Duccio and, above all, Giotto, are represented with paintings of the Madonna. The Gothic inspiration of the Siena school is symbolised by Simone Martini (the Annunciation). Paolo Uccello's Battle of San Romano leads into the abundant Renaissance period where geometrism and volumes reflect the search for perspective. The same effort can be perceived in paintings by Masaccio (his frescoes can be admired in the Brancacci chapel) and Pierro della Francesca ( Cycle of the Cross of Arezzo). Pollaiolo, with his hieratic portraits, seems to take a step back. However, with Filippo Lippi and his diaphanous, intricately-draped virgins, emerges the work of Sandro Boticelli, a great source of pride for the museum, represented here by ten or so paintings, among them Primavera and the Birth of Venus. Next came the transition to the second Renaissance embodied by Leonardo da Vinci: his famous Annunciation and Adoration of the Magi pave the way to Michelangelo's ( Holy Family), Raphael's ( Virgin of the Goldfinch), Andrea del Sarto and Titian and his Venus of Urbino. There is also a collection of German Renaissance paintings by Dürer, Altdorfer, Cranach and Holbein, not forgetting the Portinari triptych by the Bruges painter, Hugo van der Goes. Leaving the Renaissance behind, the visit concludes with Tintoretto, Veronese, Rubens and, finally Caravaggio's Adolescent Bacchus.