Things to see and do - Enkhuizen
Leaving for the Netherlands
A Tour of the Polders :
Nearby tourist sites
A Tour of the Polders
Weather
Today
A Tour of the Polders
By car, 183 km, 1 day
From its creation in the 14C, a polder is gained territory from the sea, a lake or swampland. It is hedged in by dykes, and its level of water is regulated by pumps that throw back water into the sea or rivers. The polder's criss crossing canals link them up: this is the charm of the Netherlands! Don't miss the 30km north dyke that holds out the sea waves. Also don't forget the Emmeloord water tower (edified in 1957), which offers a view on the Frisian coast, Urk and the power station of east Flevoland.
Customise this route and add it to My travel book
Lelystad
Lelystad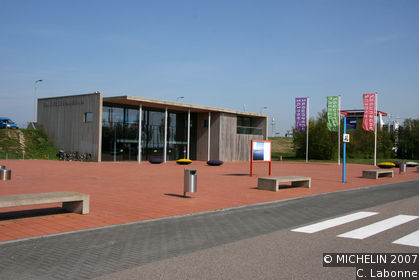 Wierdijk 12-22 1601LA Enkhuizen
Museums and art
This attraction consists of an indoor museum (the Binnenmuseum) and an outdoor museum (the Buitenmuseum). The Binnenmuseum, whose main focus is the maritime activities of the region (fishing, navigation, commerce), occupies 12 buildings, including 17 C houses and warehouses that once belonged to the West India Company. The Buitenmuseum is a museum village devoted to daily life in the former fishing ports on the Zuiderzee (completion of the closing dyke).
Afsluitdijk 8754 Makkum
Architecture, castles and historic districts
The statue of the engineer Lely, designer from 1891 of the project to close off the Zuiderzee, crowns the side of Den Oever (entrance to the dyke). On the sea side, a breakwater protects a cycle track and a road. Below the dyke, on the IJsselmeer side, the fishermen spread their nets to catch eels. The Stevinsluizen (from the name of the engineer Stevin) forms the first group of locks (boat passage).
8606NJ Sneek
Architecture, castles and historic districts
This elegant construction dates from 1613. Made from brick decorated with sandstone, it protected the port entrance. Its central part forms a bridge over the Geeuw and is flanked by two turrets which overlook the thin roofs. It is inset with arches.
N 351 8302 Emmeloord
Architecture, castles and historic districts
Built in 1957, this water tower supplies potable water to all the polder and has a carillon with 48 bells. From the top, the view stretches all the way to the Friesian coast, Urk and the Flevoland-Is electric plant.