Things to see and do - Nationaal Park De Hoge Veluwe
Leaving for the Netherlands
The Veluwe :
Nearby tourist sites
The Veluwe
Weather
Today
The Veluwe
By car, 60 km, 1 day
Who could have imagined that this land, once considered too poor for farming, would be turned into one of the largest nature preserves in the Netherlands? The National Park's 5000 hectares are a real godsend now in this most densely populated country in continental Europe. Woods, heather heaths and sand dunes are now connected by manmade biological corridors known as ecoducts. The Kröller-Müller Museum in the heart of the park has a unique collection of outdoor sculptures.
Customise this route and add it to My travel book
Apeldoorn
Apeldoorn
N 304 7351 Hoenderloo
Architecture, castles and historic districts
This large lodge (1914-1920) built from Berlage's plans is considered to be one of his masterpieces. The house, its 31m tower, its two lakes and its gardens are in geometric shapes. Outside as well as inside (also by Berlage), every shape, every colour and every detail symbolises the legend of St. Hubert, the patron saint of hunters. The hunting lodge, former home of Mr and Mrs Kröller, sometimes welcomes members of the Dutch government.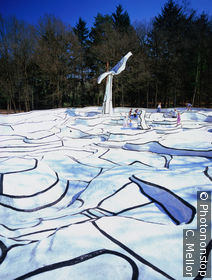 Houtkampweg 6 6730AA Otterlo
Museums and art
This very attractive museum is found in the centre of the De Hoge Veluwe national park. It was founded by rich businessmen from whom it received its name and was inaugurated in 1938. It was extended in 1960 with the creation of a sculpture garden and again in 1977 (addition of a new wing). It has a large collection of paintings, sculptures and drawings. Among the many artists represented here one can mention Zadkine, Mondrian, Picasso, Braque, Ensor, Signac, Cézanne, Renoir, Monet, Jongkind, Millet, Corot. But the most famous artist is Vincent Van Gogh. Set up around the patio, his pictures are classified in chronological order. This presentation method means that the visitor will better appreciate the extraordinary contrast between the dark works at the start ( The Potato eaters, The Cloth workshop) and the more colourful and dynamic later works. Among them these last works, you must see The Olive tree, The Cypress tree by starlight, The terrace café in the evening, The bridge at Arles, The Old man crying, The lady from Arles, Sunflowers. In the room of the new wing are contemporary sculptures depicting various artistic trends such as Minimalist Art, the Zero group and Arte Povera. Finally, do not miss the garden and sculpture park (Beeldentuin en -park) which has some splendid works by contemporary artists.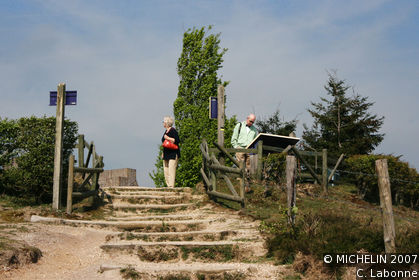 6991 Rosendael
Nature and gardens
In the area surrounding the village, several belvederes have vast panoramic views to the right over the jumble of hills covered in heather over which the walkers' paths wind.