Things to see and do - Covilhã
Exploring the Serra Da Estrela :
Nearby tourist sites
Exploring the Serra Da Estrela
Weather
Today
Exploring the Serra Da Estrela
By car, 235 km, 1 day
Summer is the best season for climbing continental Portugal's high peaks. The ''Star Mountains'' offer contrasting landscapes of glacial granite formations and pastures with farms protected by the famous Cao de la Serra Da Estrela, a breed of dog characteristic of the region. In a handful of villages they make a delicious cheese, which the Romans were curious about more than 2,000 years ago.
Customise this route and add it to My travel book
Belmonte
Belmonte
Rte du Mont Torre 6200 Covilhã
Nature and gardens
This itinerary takes the highest road built in Portugal (often traffic is banned until the end of April because of snow). It leads to villages such as Covilhã or Seia, and to the winter sport resort of Penhas da Saude. Torre, the highest point in Portugal, has an immense panoramic view.
Penhas Da Saude
Nature and gardens
At 1 993m, Torre is the highest point in Portugal, and stands in a barren landscape with little grass. There is a vast panoramic view over the crop of reliefs of the Serras da Estrela and da Lousa from the centre, marked by a plinth bearing a cross. The road then winds over the crest amongst the rocks, the mosses and the lakes including the deep blue waters of Lake Comprida, the largest in the Serra. Descending into the valley of Mondego, the views are splendid.
Unhais da Serra
Unhais da Serra
n 17 3400 Oliveira do Hospital
Religious buildings
It is Romanesque in origin and was rebuilt in the Baroque era. The interior contains the funerary chapel of the Ferreiros (13C) where the tombs of the Domingos, Joanes and his wife are found. An equestrian statue of a medieval knight from the 14C, similar to that in the Machado de Castro museum in Coimbra, is fixed to the walls above the tombs. Also see an attractive retable from the 14C in polychromatic stone, depicting the Virgin and Child.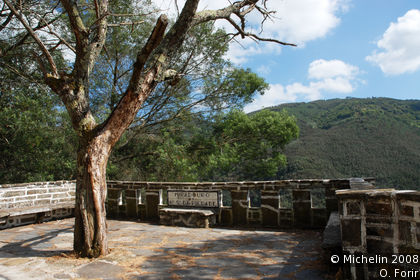 3200 Lousa
Nature and gardens
A very attractive view looking down over the valley of the Arouce, at the bottom of which stands a small medieval castle and tiny white chapels. The high village of Casal Novo is surrounded by cultivated terraces. Further on you will see Lousã and the valley of the Mondego.