Things to see and do - Faro
The Algarve: from Faro to Carvoeiro :
Nearby tourist sites
The Algarve: from Faro to Carvoeiro
Weather
Today
The Algarve: from Faro to Carvoeiro
By car, 95 km, 1 day
The Algarve is a fertile garden full of flowers and dazzlingly white villages, with an idyllic Mediterranean climate. Faro, the main port in the southern Algarve, lies on the most southerly headland in Portugal. This quiet and peaceful city makes a pleasant stopover before you visit the church of São Lourenço and its magnificent azulejos (tiles). Then you can travel down the coast to Carvoeiro to explore the beautiful Sanctuary of Nossa Senhora da Encarnação and the marine grottos of Algar Seco.
Customise this route and add it to My travel book
Faro
Faro
N 125 8000 Faro
Nature and gardens
The beach is a strip of sand, which is linked to the mainland by a bridge which runs between the ocean and the Ria Formosa. From the eastern point, you have a lovely view over Faro, the whiteness of which is reflected in the water.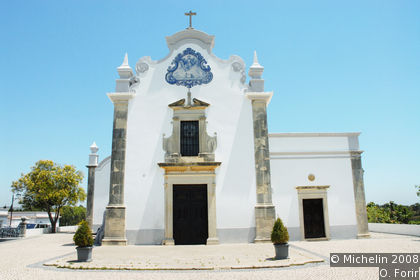 N 125 8135 Almancil
Religious buildings
This Roman church, added to in the Baroque period is covered with azulejos dating from 1730. The azulejos were designed by Bernardo, an artist known by the name of Policarpo de Oliveira Bernardes. Those on the walls and vault depict scenes from St Lawrence's life and his martyrdom... The large panel of azulejos on the church's flat chevet shows St Lawrence under a Baroque scallop.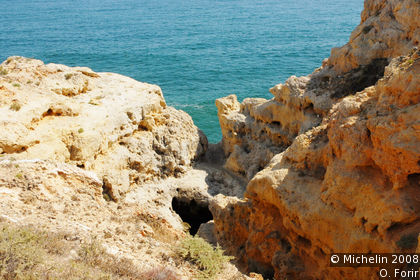 N 125 6120 Carvoeiro
Nature and gardens
It is via a maze of red rocks sculpted by the sea ( comprised of 134 steps ) that you will reach the marine site of Algar Seco, situated below Cape Carvoeiro. You will notice the gaping porches of several half-submerged grottoes. On the right there is a small tunnel leading to a cavern whose natural openings offer wonderful views of the western cliffs. On the left, a path leads to a promontory where you can see the entrance to a deep underwater grotto.
N 125 6120 Carvoeiro
Nature and gardens
This belvedere, situated at the top of a steep slope, to the east of the beach ( in front of a chapel and a police station), offers beautiful views over the cliffs of Cape Carvoeiro.