Things to see and do - Lagos
The Algarve: from Lagos to Sagres Point :
Nearby tourist sites
The Algarve: from Lagos to Sagres Point
Weather
Today
The Algarve: from Lagos to Sagres Point
By car, 39 km, 1 day
The bathing resort in Lagos is famous for its creeks, marina and sailing competitions. The first slave markets in Europe were held in the town's Infante D. Henrique Square. In the surrounding area, the rock formations at Ponta da Piedade provide a spectacular natural view. Sagres Point, the most south-westerly headland in Europe, is quite simply one of the most beautiful sites in Portugal.
Customise this route and add it to My travel book
Lagos
Lagos
Praça Infante D. Henrique 8600 Lagos
Architecture, castles and historic districts
In the centre of the square stands the statue of Henry the Navigator, inaugurated in 1960 on the 500th anniversary of his death. You can see the former slave market, an arcaded house rebuilt after the earthquake of 1755. Following African expeditions in the 15C, the first slave market in Europe was set up here.
R. General Alberto Silveira 8600 Lagos
Religious buildings
The very simple facade gives no hint of the exuberance and virtuosity of the Baroque decoration inside. You can only stand in admiration of the ceiling, the Eucharistic symbols, the statues in gilded wood and the ceiling of the gallery.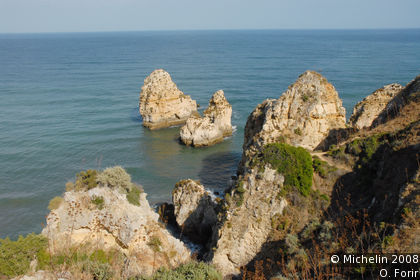 N 125 8600 Lagos
Nature and gardens
The site of Ponta da Piedade gives this point a special charm. The reddish rock of the cliffs, where sea grottoes nestle at the foot, contrasts spectacularly with the green colour of the clear water. You can visit the grottoes by boat. Behind the lighthouse, the view stretches from Cape St-Vincent to the west to Cape Carvoeiro in the east. Along a tiny road to the left of the lighthouse, there is a belvedere with a vertiginous view over the rocks.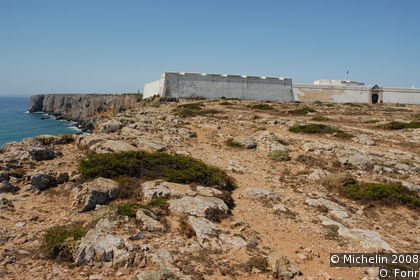 8650 Ponta de Sagres
Nature and gardens
Sagres Point is partly taken up by the fortress which was built in the 16C. Badly damaged by the earthquake of 1755, it was repaired by the "New State" in 1940 and recently restored. Having gone through the gate, visitors enter a large courtyard on whose floor is an immense compass dial 43m in diameter. The old school of navigation and the settlement of Vila do Infante were destroyed by the corsairs of Francis Drake in 1587. Magnificent views of the bay, Cape St Vincent and the Lagos coast.