Things to see and do - Setúbal
Hiking around Setubal :
Nearby tourist sites
Hiking around Setubal
Weather
Today
Hiking around Setubal
By car, 93 km, 1 day
Serra da Arrábida is said to have the most pleasant climate in Portugal. It is very popular with Lisbonites, who need only venture a few kilometres to the south to admire these limestone mountains covered by intense greenery that so inspired the poet Sebastião de Gama. There are breathtaking panoramas from some of the finest natural and historical overlooks on the peninsula.
Customise this route and add it to My travel book
Setúbal
Setúbal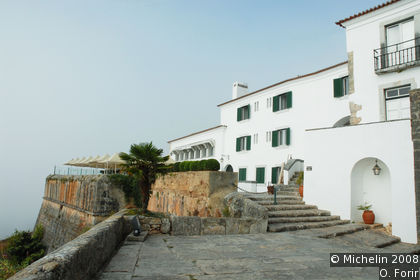 Av. Luisa 2910 Setúbal
Architecture, castles and historic districts
This fortress, partly taken up by one of the most attractive pousadas in Portugal, dominates the town. Built in 1590, it is adorned with glaze and bastions in the Vauban style. Worthy of note in the chapel are the azulejos from the 18C which recall the life of St Philip, and the superb panoramic view from the top of ramparts.
2970 Sesimbra
Architecture, castles and historic districts
This is built at the top of a bare crest more than 200m above the sea. From the crenellated walls which surround the cemetery, the view extends over Sésimbra and its port.
R. Fortaleza 2970 Sesimbra
Nature and gardens
The beach is very lively at weekends and during the summer but remains the domain of the fishermen who from come there either side of the small fort of Santiago to untangle their lines and nets.
N 379 2904 Cabo Espichel
Religious buildings
The 17C classical style church has a Baroque interior decorated with many gilt-wood objects. From the 13C onwards, the sanctuary has attracted many pilgrims.
rua miradouro 2826 Caparica
Nature and gardens
A delightful view over the resort, the cliffs to the left of the belvedere, the estuary of the Tagus and the north coast as far as Cascais.