Things to see and do - Ribe
The southern Jutland peninsula :
Nearby tourist sites
The southern Jutland peninsula
Weather
Today
The southern Jutland peninsula
By car, 134 km, 1 day
Lying close to the German border, Tønder is a welcoming town famous for its 18thC houses. Be sure to visit the mediaeval towns of Ribe and Kolding, as well: the first for its evocative atmosphere of former times, and the second for its 13thC castle. To the south of Kolding on the banks of a fjord, Haderslev is a pleasant town lying on Jutland main north/south route. Its cathedral is one of the country's most remarkable Gothic monuments.
Customise this route and add it to My travel book
Tønder
Tønder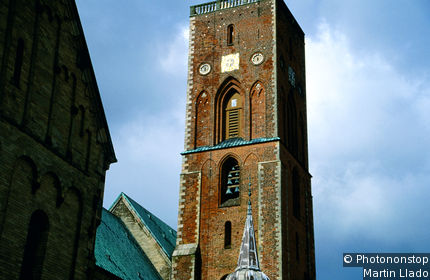 Torvet 6760 Ribe
Religious buildings
The cathedral was built in the second half of the 12C. It stands on the main square, 1.5m below the present ground level. From the top of its square tower there is a remarkable view of the town and the surrounding tidal flats. The south portal is a rare example of Danish Romanesque sculpture. Note, particularly, its carved tympanum depicting the Descent from the Cross.Inside, there is a wide nave flanked by aisles and surmounted by a dome. You can see medieval and modern frescoes as well as mosaics.
6100 Haderslev
Architecture, castles and historic districts
The restored old town, overlooked by the cathedral, stands high up on winding cobbled streets lined with old houses. One of the oldest buildings (late 16C), at no 20 Slotsgade, houses a ceramic collection, Ehlers Lertøjssamling. The Slesvigske Vognsamling in Sejlstensgyde has a collection of horse-drawn carriages from the 17C, 18C and 19C. Finds from local archaeological digs are exhibited at the Haderslev Museum in Dalgade. Opposite, a group of 17C buildings constitute an open-air museum.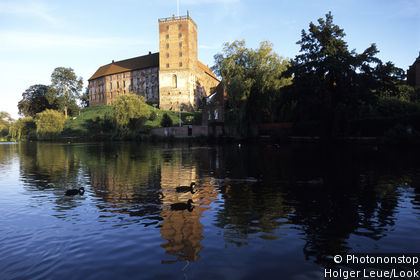 6000 Kolding
Architecture, castles and historic districts
The King of Denmark built this castle in the 13C for defensive reasons. In the Middle Ages a fortified town stood here, but nothing remains of it: the oldest parts date from the 15C. When it became a royal residence in the 16C, it lost its fortifications. Frederik IV altered it, but it was then destroyed by a fire in 1808. The originality of its restoration (20C) lies in the alliance of modern structures with the ancient ruins, as seen in the great hall, the chapel and the south wing. A museum of Danish crafts and decorative art is now housed here.