Things to see and do - Covadonga
Parque nacional de los Picos de Europa :
Nearby tourist sites
Parque nacional de los Picos de Europa
Weather
Today
Parque nacional de los Picos de Europa
By car, 148 km, 1 day
Asturias is the most preserved and scenic region in Spain: in one day you can reach snow-capped summits and fine sandy beaches! Also, between Oviedo and Santander, 30km from the sea, the peaks of Europe constitute the highest range of the Cantabrian mountains (the Torrecerredo is 2648m at its highest point). The road edges into impressive narrow passes such as those of La Hermida or of Los Beyos.
Customise this route and add it to My travel book
Covadonga
Covadonga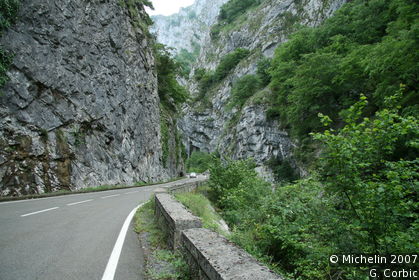 33589 Covadonga
Nature and gardens
Carved by the River Sella out of an exceptionally thick layer of limestone, the river rushing down this 10km-long defile is too fast-flowing for anything except the occasional tree to have put down roots on its sides. It is however wide enough for the sun's rays to sparkle off its precipitous waters from time to time.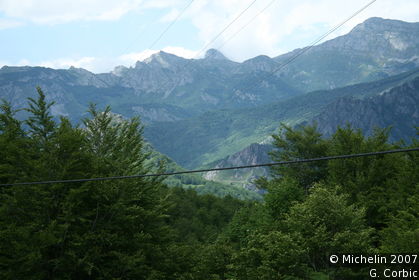 Retuerto
Nature and gardens
This pass of the Picos de Europa chain, at an altitude of 1 290m, commands a scenic panorama of the Sajambre Valley. The descent begins with tight hairpin bends in full view of the western range. The road becomes more spectacular as you reach the formidable rock wall through which the Sella has hollowed its course.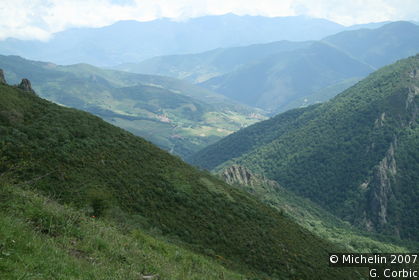 24915 Santa Marina De Valdeon
Nature and gardens
This pass (1 562m) leads up to a vista of the three ranges of the Parque Nacional de los Picos de Europa. In the foreground to the right can be seen the two summits of the central range: the Cabén de Remoña and the Torre de Salinas. In the distance the village of Santa Marina de Valdeón nestles in a hollow.
Potes
Potes
N 621 39583 Lebeña
Religious buildings
This small 10C Mozarabic church is surrounded by poplars and dominated by high cliffs. The belltower and porch are later additions. The three vaulted naves rest on horseshoe arches. Note the Corinthian capitals.