Things to see and do - Figueres
Dalí's life and works :
Nearby tourist sites
Dalí's life and works
Weather
Today
Dalí's life and works
By car, 123 km, 1 day
The names of Figueres and Dalí will always be linked. The little hinderland town houses the Dali Theatre-Museum, a fabulous and surprising museum in the image of its provocative creator. 2km from Cadaquès, Portlligat is a small bay with an adorable port where Dalí had his house. The painter and his wife Gala converted it over 40-years. The last stage of the journey is Púbol that houses a 14C castle offered by Dalí to his wife. Visiting this surrealist place is equally full of surprises.
Customise this route and add it to My travel book
Figueres
Figueres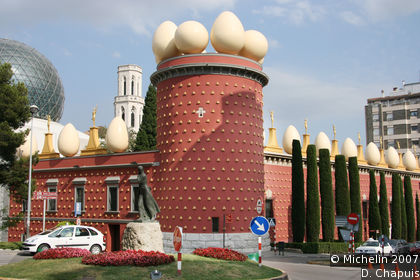 Pl. Gala i S. Dali 17600 Figueres
Architecture, castles and historic districts
The old municipal theatre, built in 1850 by the neo-Classical architect José Roca i Bros, was renovated in 1968 to house the spectacular and extravagant Dalí museum. The simplification of the interior rooms and the construction of an immense glass cupola (by Emilio Pérez Piñero) inspired Dalí, who embellished the building with giant eggs, bread rolls on the façade to imitate the shells on the Casa de las Conchas in Salamanca, basins and gilt models.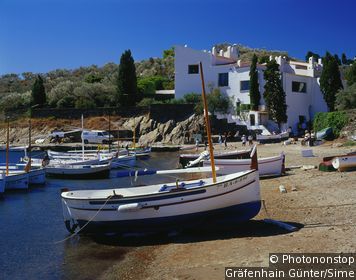 Camino Portlligat 17488 Portlligat
Museums and art
Made up of a labyrinth of fishermen's houses that Dalí and his wife Gala built over more than 40 years. Here you can see the painter's studio, library, the couple's rooms, the extraordinary garden and swimming pool.
Castell de Púbol 17120 Púbol
Museums and art
The 14C castle of the barons of Púbol was a present from Dalí to his wife Gala in 1970, and she is buried here. The artist decorated the entire building containing unusual surrealist objects.