Things to see and do - Spain
The Costa Verde east of Gijon :
Nearby tourist sites
The Costa Verde east of Gijon
Weather
Today
The Costa Verde east of Gijon
By car, 152 km, 1 day
The Costa Verde gets its name from the colour of the sea and its shores green with eucalyptus and pine trees. This coast, one of the most beautiful in Spain, has the Cantabrian mountains and the Picos de Europa as a backdrop. From Gijón onwards, the landscape is a series of cliffs, beaches and fishing villages. San Vicente de la Barquera, at the end of your journey, embodies the quintessential Cantabrian coast, with its beaches, old village and breathtaking view of the Picos de Europa with their snowy peaks.
Customise this route and add it to My travel book
Gijón
Gijón
33311 Amandi
Religious buildings
Clinging to the mountain and identifiable by its belltower gable, the church of San Juan, which was transformed in the 18C, has kept its 13C portal and apse with elegant decoration.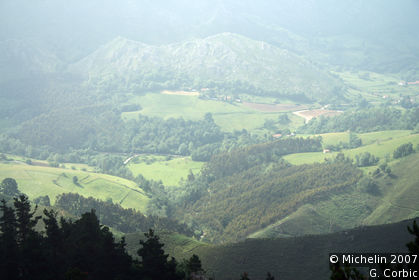 33341 La Isla
Nature and gardens
Located some 10km from the coast, this lookout point affords a splendid panoramic view of the Picos de Europa, the Sierra del Sueve and the Costa Verde.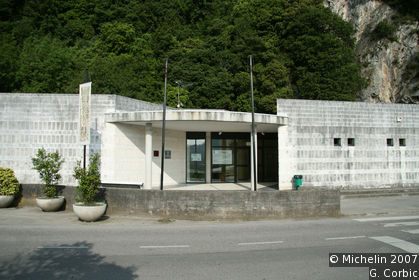 N 632 33560 Ribadesella
Archaeological and historical sites
The caves (Cuevas de Tito Bustillo) are famous for their wall of paintings created between the Solutrean and Magdalenian ages (around 20 000 years BC) and depicting animals, including horses, deer and reindeer. The Cave Art Centre onsite presents a fun, interactive exhibition, created so as to preserve the caves.
Llanes
Llanes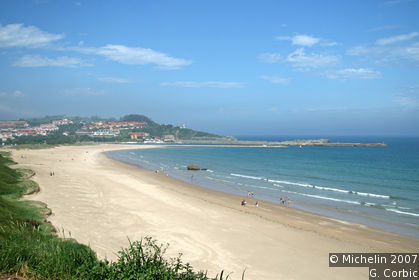 39540 San Vicente de la Barquera
Architecture, castles and historic districts
This spa resort is attractive as a result of the originality of its location, its huge beach and its old houses. At the top of the hill, the Church of Nuestra Señora de los Ángeles is interesting. There is an attractive view of the village from the road to Unquera.