Things to see and do - Spain
The Corniche and Serra de Tramuntana trail :
Nearby tourist sites
The Corniche and Serra de Tramuntana trail
Weather
Today
The Corniche and Serra de Tramuntana trail
By car, 185 km, 1 day
The largest of the Balearic Islands is also one of the most popular tourist sites in Europe. A must visit is Palma and its bay, the historic centre with its cathedral, and its old 18C houses. The west coast of Mallorca leads to magical sites like the Ricardo Roca watchtower where the view descends very steeply onto limpid inlets, or the Ses Animes watchtower where the observation tower allows you to admire the Dragonera island and Sóller harbour. The beautiful road of Sa Calobra descends towards the sea.
Customise this route and add it to My travel book
Palma de Majorca
Palma de Mallorca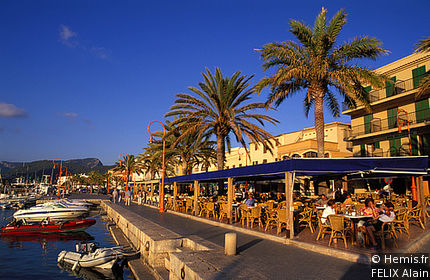 C 719 07157 Andratx
Architecture, castles and historic districts
Used by sailing boats, the port of Andratx is hidden at the bottom of a narrow natural harbour. Behind it, the village is surrounded by almond tree plantations and blends into the background of grey mountains overlooking the peak of Galatzó (alt. 1,026 m).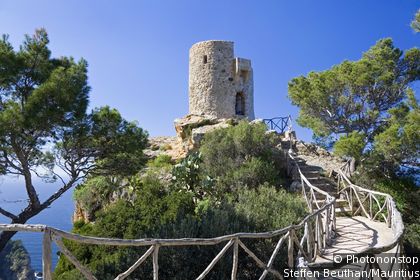 07191 Banyalbufar
Nature and gardens
An old watchtower affords a sweeping view along the coast from the Isla de Dragonera to Port de Sóller.
PM 111 07170 Valldemossa
Religious buildings
This Charterhouse in the village of the same name became famous when George Sand and Chopin stayed here during the winter of 1838-1839. On another side of the cloister, the 18C pharmacy holds a fine collection of jars and boxes. The cells occupied by George Sand and Chopin offer lovely views across the surrounding carob, olive and almond tree plantations that surround the village. A small museum houses a collection of xylographic wood engravings.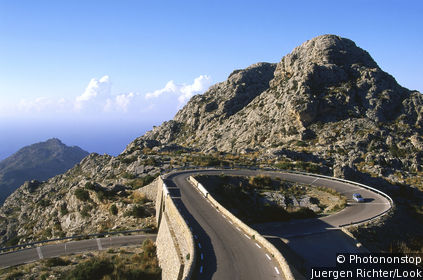 07100 Soller
Nature and gardens
The magnificently planned road plunges towards the Mediterranean through a landscape of steep, jagged rocks. For 12km, the road drops 700m into desolate scenery over which towers the Puig Major.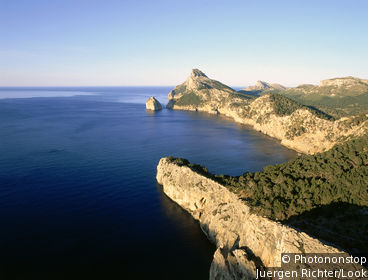 07470 Port De Pollenca
Nature and gardens
The Cabo de Formentor Road winds its way gradually up to the narrow jagged crest at the top. On the way, it commands numerous spectacular points of view, including the well-known Mirador des Colomer. A stepped path takes you to the spot overlooking an impressive vertical drop, which dominates what is known as Mallorca's "Costa Brava". Enjoy the vision of the great rocky outcrops plunging down into the sea.