Things to see and do - Switzerland and Liechtenstein
Leaving for Liechtenstein
The fruits of the land trail :
Nearby tourist sites
The fruits of the land trail
Weather
Today
The fruits of the land trail
By car, 60 km, 1 day
At the foot of the Moléson and of the Broc projection, the capital of the Gruyères counts gave its name to the famous cheese, of which you can discover the fabrication in the ancient cheese factory. With its old churches, its flower covered chalets, and the lapping of its small fountains, Enhaut country is a hymn to pastoral life... At the Château d'Oex, the 'Musée du Vieux Pays d'Enhaut' (museum of the old country of Enhaut) presents the history and traditions of this bucolic region. Aigle castle, an ancient Savoy fiefdom (13C), houses The Vine and Wine Museum and defends the colours of Chablais vineyards.
Customise this route and add it to My travel book
Gruyères
Gruyères
1663 Pringy
Industrial tourism and theme park
In this former industrial cheese factory that has been completely renovated, you can visit the cellars where the cheese is kept, the salting area, an exhibition on local life, a video on cheesemaking and galleries overlooking the demonstration room where modern Gruyère is made in 35 kg blocks.
Les Bossons 1837 Château-d'Oex
Museums and art
This intimately arranged museum illustrates the rich human past of this area from the 12-19C. There are many objects such as parchments and photographs, and several reconstructions, including a forge, kitchen and country bedroom. In two nearby buildings, there is a reconstruction of a mountain chalet and cheesemaking workshop and a carpenter's workshop. Standing at the top of the town, the Etambeau chalet contains exhibitions of local architecture.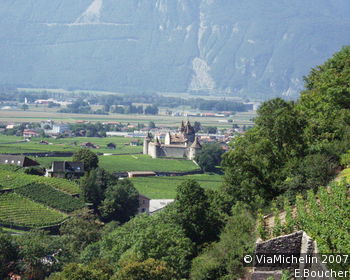 Château d'Aigle. case postale 453 1860 Aigle
Architecture, castles and historic districts
Still in its walls surrounded by pointed towers and covered in vines, this 13C castle was rebuilt by the people of Berne in the 15C and restored recently. It houses the museum of vineyards and winemaking, which contains objects and tools from the 17-20C. The covered walkway still contains some fine multicoloured paintings of flowers and fruit.